Bioactivities of major constituents isolated from Angelica sinensis (Danggui)
Received: 29 March 2011
Accepted: 19 August 2011
Published: 19 August 2011
Abstract
Danggui, also known as Angelica sinensis (Oliv.) Diels (Apiaceae), has been used in Chinese medicine to treat menstrual disorders. Over 70 compounds have been isolated and identified from Danggui. The main chemical constituents of Angelica roots include ferulic acid, Z-ligustilide, butylidenephthalide and various polysaccharides. Among these compounds, ferulic acid exhibits many bioactivities especially anti-inflammatory and immunostimulatory effects; Z-ligustilide exerts anti-inflammatory, anti-cancer, neuroprotective and anti-hepatotoxic effects; n-butylidenephthalide exerts anti-inflammatory, anti-cancer and anti-cardiovascular effects.
Keywords
Ferulic AcidUnilateral Ureteral ObstructionMurine Peritoneal MacrophageAngelica SinensisBrain Tumor Cell Line
Background
Angelica sinensis
(Oliv.) Diels (Apiaceae) (AS), the root of which is known in Chinese as
Danggui
(Figure
1
), was first documented in
Shennong Bencao Jing
(
Shennong's Materia Medica
; 200-300AD) and has been used as a blood tonic to treat menstrual disorders [
1
].
Danggui
is marketed in various forms worldwide [
2
,
3
]. Over 70 compounds have been identified from
Danggui
, including essential oils such as ligustilide, butylphthalide and senkyunolide A, phthalide dimers, organic acids and their esters such as ferulic acid, coniferyl ferulate, polyacetylenes, vitamins and amino acids. Z-ligustilide (water insoluble and heat stable), among which Z-butylidenephthalide and ferulic acid are thought to be the most biologically active components in AS [
4
] and are often used in quality control and pharmacokinetic studies of
Danggui
[
3
–
6
].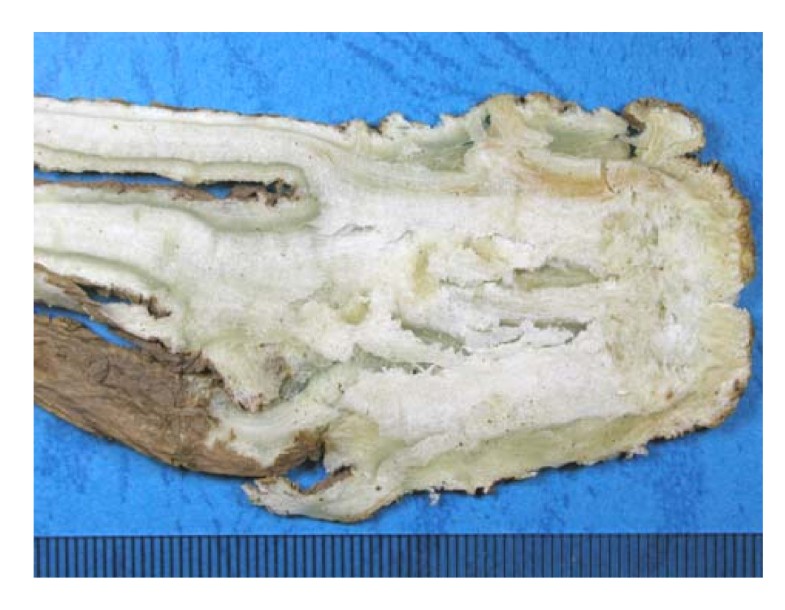 Z-ligustilide is the main lipophilic component of the essential oil constituents and a characteristic phthalide component of a number of Umbelliferae plants. Z-ligustilide is considered to be the main active ingredient of many medicinal plants, such as Danggui [7] and Ligusticum chuangxiong [8].
Phthalides
Phthalides (Figure
2
) consist of monomeric phthalides such as Z-ligustilide and phthalide dimers. In 1990
Danggui
was reported in the literature when the Z-ligustilide dimer E-232 was isolated [
9
]. The majority of the phthalides identified is relatively non-polar, the fraction of which can be extracted with solvents such as hexanes, pentane, petroleum ether, methanol, 70% ethanol and dichloromethane. The amount of Z-ligustilide in
Danggui
varies between 1.26 and 37.7 mg/g dry weight [
6
,
10
,
11
]. Z-ligustilide facilitates blood circulation, penetrates the blood brain barrier to limit ischemic brain damage in rats and attenuates pain behaviour in mice [
12
–
14
]. Preclinical studies have indicated that AS and Z-ligustilide may also relax smooth muscle in the circulatory, respiratory and gastrointestinal systems [
15
].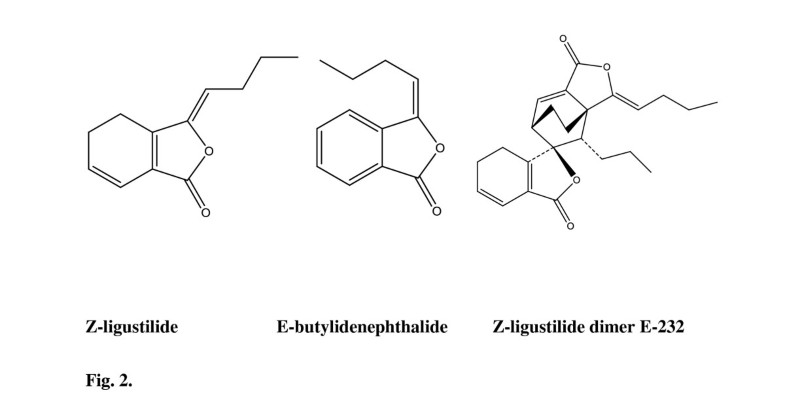 Organic acids
Danggui
contains many organic acids. For example, ferulic acid (Figure
3
) isolated from
Danggui
is widely used as the marker compound for assessing the quality of
Danggui
and its products. Methanol, methanol-formic acid (95:5), 70% methanol, 70% ethanol, 50% ethanol or diethyl ether-methanol (20:1) is used as the initial extraction solvent. The amount of ferulic acid in
Danggui
varies between 0.21 and 1.75 mg/g dry weight [
6
,
16
]. We recently extracted ferulic acid from AS using ethyl acetate and obtained 3.75 mg/g dry weight of the whole plant [
11
]. Abundant in rice bran, wheat, barley, tomato, sweet corn and toasted coffee, ferulic acid is an antioxidant, anti-inflammatory and anti-cancer agent and apart from its effects against Alzheimer's disease, it possesses anti-hyperlipidemic, antimicrobial and anti-carcinogenic properties [
17
–
21
].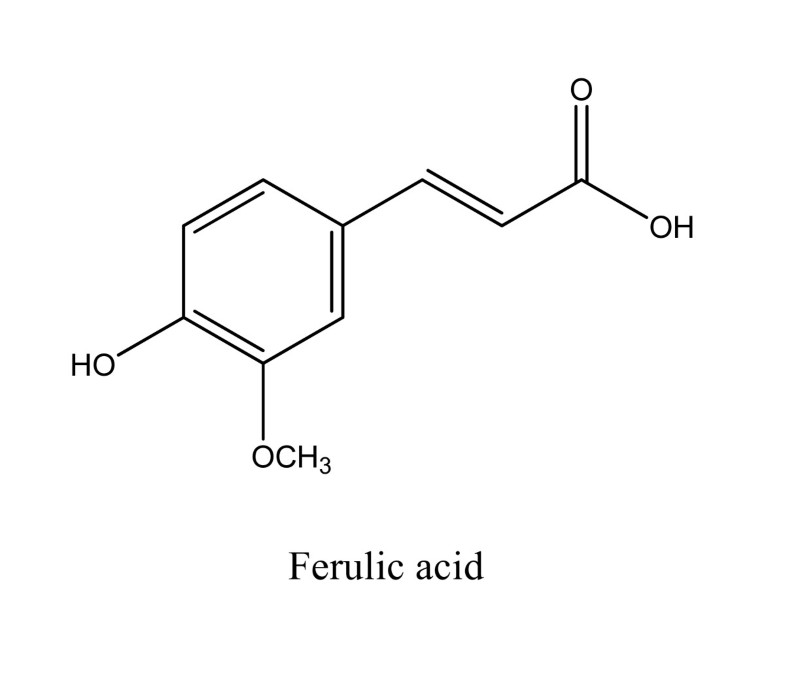 Polysaccharides
Biochemical and medical researchers have recently been interested in the anti-tumor and immunomodulatory effects of polysaccharides [22]. The efficacy of Danggui is associated with its various polysaccharides [22] which are extracted with water as the initial extraction solvent. Polysaccharides from Danggui consist of fucose, galactose, glucose, arabinose, rhamnose and xylose [23]. Danggui contains a neutral polysaccharide and two kinds of acidic polysaccharides [24].
Pharmacological activities
Conclusion
Bioactive components extracted from AS roots include Z-ligustilide, ferulic acid and AS polysaccharides. Major pharmacological effects of Danggui extract or its components include anti-inflammatory, anti-cancer, immunomodulatory, anti-cardiovascular, neuroprotective, anti-oxidative, anti-hepatotoxic and renoprotective activities.
Abbreviations
AS:

Angelica sinensis
MIP-2:

macrophage inflammatory protein-2
LPS:

lipopolysaccharide
VEGF:

vascular endothelial growth factor
ROS:

reactive oxygen species
JNK:

c-Jun NH2-terminal kinase
AP-1:

activating protein-1
PARP:

poly (ADP-ribose) polymerase
GM-CSF:

granulocyte-macrophages colony stimulating factor
ERK1/2:

extracellular signal-regulated kinase1/2
HUVEC:

human umbilical vein endothelial cell
MDA:

malondialdehyde
GSH-Px:

glutathione peroxidise
SOD:

superoxide dismutase
GSH:

glutathione
DPPH:

1,1-diphenyl-2-picryl hydrazine
CYP:

cytochrome P450
Nrf2:

nuclear factor E2-related factor 2
ARE:

transcription of antioxidant response element
ACEi:

angiotensin converting enzyme inhibitors
TRP3:

transient receptor protein 3
BST-1:

bone marrow stromal cell antigen 1
PEX6:

peroxisomal biogenesis factor 6
XDH:

xanthine dehydrogenase
CYP1A1:

cytochrome P450 subfamily I member A1
PAI-1:

serine/cysteine proteinase inhibitor clade E member 1
FGF23:

fibroblast growth factor 23
STAT3/5:

signal transducer and activator of transcription 3/5.
Declarations
Acknowledgements
This work was partially supported by a grant (CCMP93-RD-052, CCMP94-RD-026, CCMP95-RD-105) from the Committee on Chinese Medicine and Pharmacy, Department of Health, Taiwan.
Authors' Affiliations
(1)
Department of Biochemical Science and Technology, College of Life Science, National Taiwan University, Taipei, Taiwan
Copyright
© Chao and Lin; licensee BioMed Central Ltd. 2011
This article is published under license to BioMed Central Ltd. This is an Open Access article distributed under the terms of the Creative Commons Attribution License (http://creativecommons.org/licenses/by/2.0), which permits unrestricted use, distribution, and reproduction in any medium, provided the original work is properly cited.