Anti-tumor effects of the American cockroach, Periplaneta americana
Chinese Medicine
2017
12:26
Received: 2 June 2017
Accepted: 6 September 2017
Published: 12 September 2017
Abstract
Since the incidence of cancer has been on the rise due to increasing exposure to various carcinogenic factors in recent years, cancer has gradually become the first killer to the health of human beings. A growing attention has been paid to anti-cancer effects of traditional Chinese medicine (TCM) with low toxicity and good efficacy. As a kind of TCM, Periplaneta americana (P. americana) has a good effect on clinical application, and its anti-tumor effects has been increasingly well studied. In this review, the research progress on the anti-tumor effects of P. americana was summarized. The main mechanisms of its anti-tumor effects include suppression of tumor cell growth, induction of cell cycle arrest and tumor cell apoptosis, inhibition of angiogenesis, enhancement of immunity, and reversal of tumor drug resistance. This review aims to provide an overview of the research on anti-tumor effects of P. americana and aids in its further application as an anti-tumor drug.
Keywords
Periplaneta americana Anti-tumorApoptosisAngiogenesisImmunity
Background
As one of the leading causes of death in the world, cancer has been the focus of extensive research [1]. According to GLOBOCAN 2012, about 14.1 million new cancer cases and 8.2 million deaths occurred in 2012 worldwide [2]. Meanwhile, there were approximately 3.4 million cancer patients in China in 2012, and the number of cancer deaths was about 2.46 million [3]. Cancer can seriously threaten the patients' quality of life and their survival. Surgery, radiotherapy, and chemotherapy are widely used for the treatment of cancer in the world. However, these methods cannot effectively change the causal interaction of individual factors related to the pathological process. Therefore, it is difficult to completely inhibit tumor recurrence and metastasis. Long-term treatment with these methods may facilitate drug resistance and cause serious side effects in patients [4]. Traditional Chinese medicine (TCM) has a well-established history of high efficiency and low toxicity [5–8]. Tumor treatment with TCM is carried out through the overall regulation of the body [9]. In recent years, cancer therapy using TCM with characteristics of multi-level, multi-link, and multi-target has garnered increasing attention [10–13].
Periplaneta americana, more commonly known as the American cockroach, is the part of Insecta class, Dictyoptera order, and Blattidae family. It is one of the largest, strongest, oldest, and most successful breeding insect groups [14]. The dried worms or fresh adults of P. americana are often used as a TCM drug [15]. Its taste is salty and acrid, and its nature is cold. These features can promote blood circulation, remove blood stasis, help digestion, aid in detoxification, and induce diuresis for treating edema. P. americana can also be used to treat infantile malnutrition, tonsillitis, body phlegm, carbuncles, sore throat, and insect bites. Modern pharmacological research has revealed that P. americana has anti-tumor effects, and is able to enhance immunity, promote tissue repair, stabilize blood pressure, improve microcirculation, protect the liver, and act as an anti-inflammatory, anti-bacterial, and anti-viral agent as well as an analgesic and antioxidant [15, 16].
Conclusion
Periplaneta americana
extract has been widely applied in China as an alternative medicine against diseases. The above studies have shown that the anti-tumor effects of
P. americana
are attracting more and more attention. This review aimed to provide a clear picture regarding the anti-tumor effects and the underlying mechanisms of
P. americana
. The reported mechanisms of anti-tumor effects of
P. americana
mainly involve inhibition of tumor cell growth, induction of cell cycle arrest and apoptosis, suppression of angiogenesis, enhancement of immunity, and reversal of drug resistance (Fig.
1
). However, the specific active constituents and precise mechanisms underlying the anti-cancer activities of
P. americana
remain uncertain. Thus, it is an important research topic to optimize the extraction process and search for the best technological conditions for further isolation and purification of the anti-tumor constituents of
P. americana
. Additionally, the mechanisms of anti-tumor effects of
P. americana
remain to be further identified. More exploration remain to be performed, such as effects of
P. americana
on cancer metastasis or autophagy. It may be promising to conduct further investigation of PAE60 on the identification of active chemical constituents and relevant pharmacological mechanisms. To be sure, further exploration of anti-cancer drug from
P. americana
will provide potent scientific basis for clinical use of
P. americana
and contribute to the development of novel anti-cancer drugs with high efficiency and low toxicity.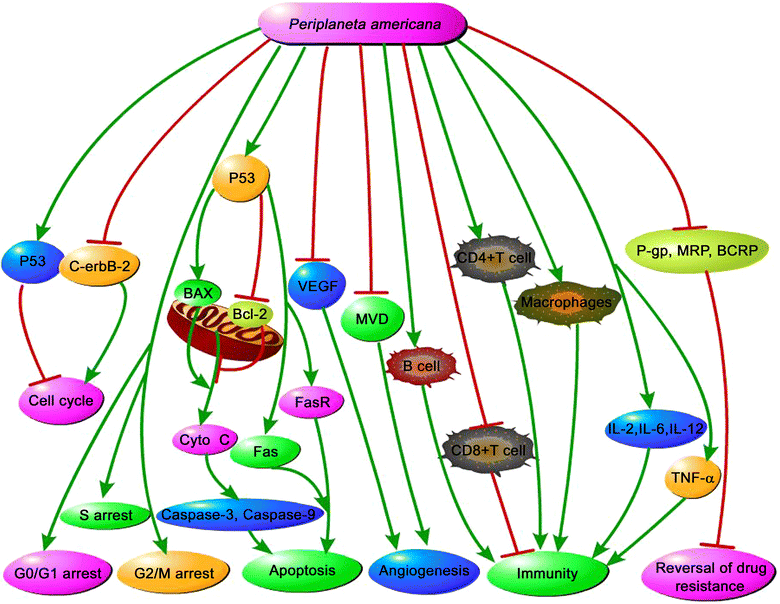 Abbreviations
TCM:

traditional Chinese medicine
VEGF:

vascular endothelial growth factor
TNF-α:

tumor necrosis factor-α
P. americana :

Periplaneta americana
MVD:

microvessel density
HBV:

hepatitis B virus
PAE60:

60% ethanol fraction of Periplaneta americana organic extracts
FasR:

Fas receptor
MRP:

multidrug resistance protein
BCRP:

breast cancer resistance protein
P-gp:

P-glycoprotein
Declarations
Authors' contributions
YZ, PT, and ZH conceived and designed the review. YZ, AY, PT, and ZH wrote the manuscript . All authors read and approved the final manuscript.
Acknowledgements
Not applicable.
Competing interests
The authors declare that they have no competing interests.
Availability of data and materials
Not applicable.
Consent for publication
All of authors consent to publication of this work in Chinese Medicine.
Ethics approval and consent to participate
Not applicable.
Funding
This work was supported by the Excellent Young Scientist Foundation of Beijing University of Chinese Medicine (2015-JYB-XYQ-004).
Publisher's Note
Springer Nature remains neutral with regard to jurisdictional claims in published maps and institutional affiliations.
Open AccessThis article is distributed under the terms of the Creative Commons Attribution 4.0 International License (http://creativecommons.org/licenses/by/4.0/), which permits unrestricted use, distribution, and reproduction in any medium, provided you give appropriate credit to the original author(s) and the source, provide a link to the Creative Commons license, and indicate if changes were made. The Creative Commons Public Domain Dedication waiver (http://creativecommons.org/publicdomain/zero/1.0/) applies to the data made available in this article, unless otherwise stated.
Authors' Affiliations
(1)
Modern Research Center for Traditional Chinese Medicine, School of Chinese Materia Medica, Beijing University of Chinese Medicine, Beijing, China