Autophagic effects of Chaihu (dried roots of Bupleurum Chinense DC or Bupleurum scorzoneraefolium WILD)
Received: 4 March 2014
Accepted: 8 September 2014
Published: 11 September 2014
Abstract
Chaihu, prepared from the dried roots of Bupleurum Chinense DC (also known as bei Chaihu in Chinese) or Bupleurum scorzoneraefolium WILD (also known as nan Chaihu in Chinese), is a herbal medicine for harmonizing and soothing gan (liver) qi stagnation. Substantial pharmacological studies have been conducted on Chaihu and its active components (saikosaponins). One of the active components of Chaihu, saikosaponin-d, exhibited anticancer effects via autophagy induction. This article reviews the pharmacological findings for the roles of autophagy in the pharmacological actions of Chaihu and saikosaponins.
Keywords
Autophagy Chaihu saikosaponinChinese Medicine qi
Introduction
Chaihu
, prepared from the dried roots of
Bupleurum Chinense DC
(also known as
bei Chaihu
in Chinese) or
Bupleurum scorzoneraefolium WILD
(also known as
nan Chaihu
in Chinese), is often prescribed as decoctions such as "
xiao yao
powder", "
da Chaihu
decoction", or "
xiao Chaihu
decoction" for treating chills and fevers [
1
–
3
].
Chaihu
facilitates
sheng
(
ascending
) and
jiang
(
dispersing
)
qi
to alleviate stagnation of
gan
(
liver
)
qi
[
4
]. The contemporary clinical indications for
Chaihu
include common cold, malaria, cholecystitis, globus pharyngitis, gynecological diseases, depression, hepatitis, liver cirrhosis, pancreatitis, and hyperlipidemia [
5
,
6
]. Recent research has revealed the pharmacological actions of
Chaihu
. Specifically,
Chaihu
and its active components (saikosaponins) exhibited immunomodulatory [
7
,
8
], antiviral [
9
], antipyretic [
10
,
11
], hepatoprotective [
12
,
13
], anticancer [
14
], sedative, and analgesic [
15
] effects. Our recent study further revealed that saikosaponin-a (Ssa) and saikosaponin-d (Ssd), which are related to
gan qi
regulation [
4
,
13
] can induce autophagy [
16
]. This article reviews the recent findings for the roles of autophagy in the pharmacological actions of
Chaihu
and saikosaponins (Figure
1
).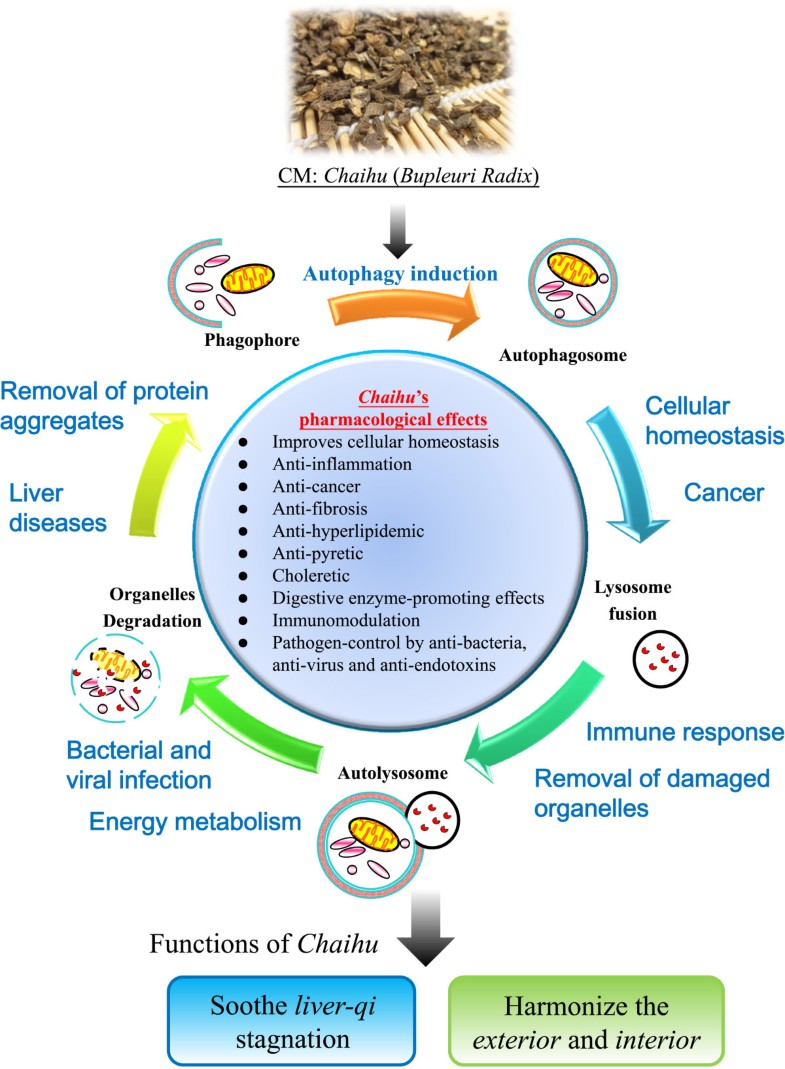 Conclusions
The function of Chaihu in harmonizing the exterior and interior of the body is related to its pathogen control and immunomodulation properties. Furthermore, Chaihu's function in resolving gan qi stagnation might arise through its supportive roles in protecting organs, preventing damage to cells and organs, and restoring visceral and cellular metabolic conditions. All of these protective pharmacological effects of Chaihu might be attributed to its autophagy induction.
Abbreviations
Ssa:

Saikosaponin-a
Ssc:

Saikosaponin-c
Ssd:

Saikosaponin-d
ER:

Endoplasmic reticulum
PTEN:

Phosphatase and tensin homolog
TLRs:

Toll-like receptors
Bcl-2:

B-cell CLL/lymphoma 2
IL:

Interleukin
TNF:

Tumor necrosis factor
IFN:

Interferon
c-AMP:

Cyclic adenosine monophosphate
SERCA:

Sarcoplasmic/endoplasmic reticulum calcium ATPase pump
NF-κB:

Nuclear factor-κB
CM:

Chinese medicine
Atg:

Autophagy-related gene
mTOR:

Mammalian target of rapamycin
5-HT:

5-hydroxytryptamine.
Declarations
Acknowledgment
This work was supported by grants from the Science and Technology Development Fund (FDCT) of Macao (Project codes: 013/2012/A1 and 076/2011/A3).
Authors' Affiliations
(1)
State Key Laboratory of Quality Research in Chinese Medicine, Macau University of Science and Technology, Macau, China
(2)
School of Chinese Medicine, Hong Kong Baptist University, China
Copyright
© Law et al.; licensee BioMed Central Ltd. 2014
This article is published under license to BioMed Central Ltd. This is an Open Access article distributed under the terms of the Creative Commons Attribution License (http://creativecommons.org/licenses/by/4.0), which permits unrestricted use, distribution, and reproduction in any medium, provided the original work is properly credited. The Creative Commons Public Domain Dedication waiver (http://creativecommons.org/publicdomain/zero/1.0/) applies to the data made available in this article, unless otherwise stated.