Anti-inflammatory effects of Chinese medicinal herbs on cerebral ischemia
Received: 19 February 2011
Accepted: 9 July 2011
Published: 9 July 2011
Abstracts
Recent studies have demonstrated the importance of anti-inflammation, including cellular immunity, inflammatory mediators, reactive oxygen species, nitric oxide and several transcriptional factors, in the treatment of cerebral ischemia. This article reviews the roles of Chinese medicinal herbs as well as their ingredients in the inflammatory cascade induced by cerebral ischemia. Chinese medicinal herbs exert neuroprotective effects on cerebral ischemia. The effects include inhibiting the activation of microglia, decreasing levels of adhesion molecules such as intracellular adhesion molecule-1, attenuating expression of pro-inflammatory cytokines such as interleukin-1β and tumor necrosis factor-α, reducing inducible nitric oxide synthase and reactive oxygen species, and regulating transcription factors such as nuclear factor-κB.
Keywords
Cerebral IschemiaFerulic AcidMiddle Cerebral Artery OcclusionAcute Ischemic StrokeGinsenoside
Introduction
Activation of multiple inflammatory cascades accounts for the progressing of ischemia stroke [1]. After cerebral ischemia, energy depletion and necrotic neuron death in the local ischemic area start the inflammatory cascades. The reperfusion generates reactive oxygen species (ROS) that induce the production of cytokines and chemokines leading peripheral leukocytes to influx into the cerebral parenchyma and activate endogenous microglia. Then cellular immunity, adhesion molecules, inflammatory mediators, transcriptional factors participate in the inflammatory process.
Anti-inflammatory treatment that inhibits specific steps of the inflammatory cascade is a new strategy for improving outcome after ischemia stroke [
2
–
4
]. The anti-inflammatory agents, including a variety of natural products used in Chinese medicine, have been shown to be able to prevent or treat ischemic stroke, by decreasing the infarct area and neurological deficiency [
5
]. These natural products are documented as anti-oxidative, anti-inflammatory, anti-apoptotic and neuro-functional regulatory agents [
5
]. Some active ingredients isolated from these herbs have been identified and demonstrated to have neuroprotective actions. Some of these compounds are andrographolide isolated from
Andrographis paniculata
(
Chuan-xin-lian
), oxymatrine isolated from
Sophora flavescens
(
Ku-shen
), quercetin isolated from
Sophora japonica
(
Huai-hua
), ferulic acid isolated from both
Angelica sinensis
(
Dang-gui
) and
Ligusticum wallichii
(
Chuan-xiong
), tetramethylpyrazine isolated from
Ligusticum wallichii
(
Chuan-xiong
), paeonol and paeoniflorin isolated from
Paeonia lactiflora
(
Bai-shao
), shikonin isolated from
Lithospermum erythrorhizon
(
Zi-cao
), vanillin, 4-hydroxybenzyl alcohol and 4-hydroxybenzyl aldehyde isolated from
Gastrodia elata
(
Tain-ma
), puerarin from
Radix Puerariae
(
Pueraria lobata; Ge-gen
), polydatin and emodin-8-O-β-D-glucoside isolated from
Polygonum cuspidatum
(
Hu-zhang
), tanshinone IIA isolated from
Salviae miltiorrhiza
(
Dan-shen
), wogonin isolated from
Scutellaria baicalensis
(
Huang-qin
) and apocynin isolated from
Picrorhiza kurroa
(
Hu-huang-lian
) (Figure
1
).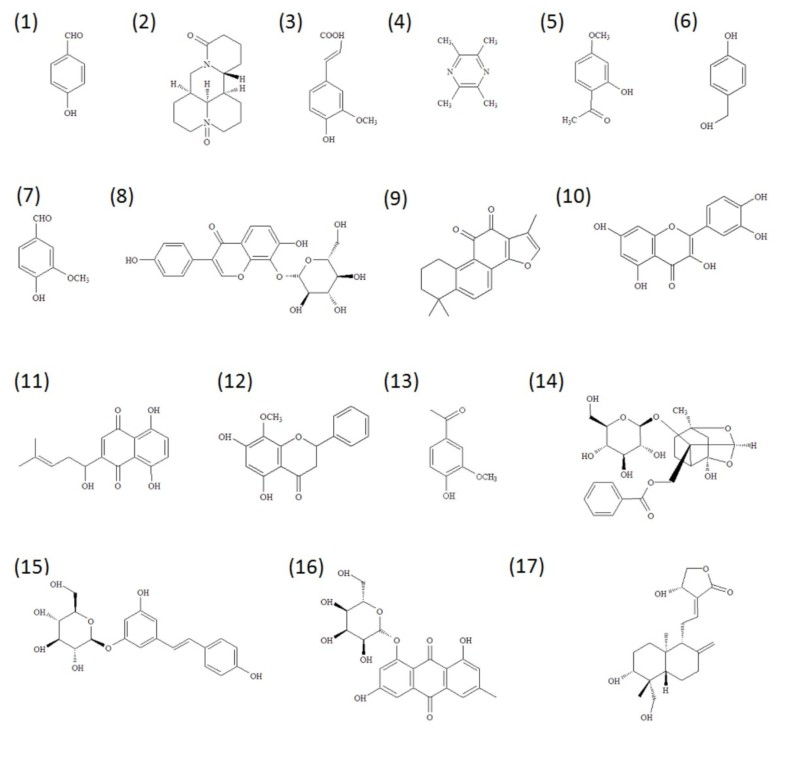 This article reviews the current roles of Chinese medicinal herbs as well as their ingredients in the inflammatory cascade induced by cerebral ischemia. Using cerebral ischemia (OR ischemic stroke) AND herb (OR traditional Chinese medicine) AND inflammation (OR inflammatory OR immunity) as the keywords, we search the English databases including PudMed, Medline, and Cochrane library from 1980 to 2010, generating 77 articles from the initial search.
Chinese medicinal herbs for reducing inflammation in cerebral ischemia
Conclusions
Many Chinese medicinal herbs that act on the inflammation process were used to treat ischemia stroke. These herbs suppress inflammatory cascades in cellular immunity, adhesion molecules, cytokines, arachidonic acid, metabolites, NO, ROS, and transcriptional factors. In the future, more clinical trials should be down to Chinese herbs that have been demonstrated effective in animal studies but not been proven in human.
Abbreviations
AA:

arachidonic acid
AP-1:

activator protein-1
BBB:

blood-brain barrier
COX:

cyclooxygenase
1-Cys Prx:

1-Cys peroxiredoxin
ERKs:

extracellular signal-regulated kinase
GSH:

glutathione
GSH-Px:

glutathione peroxidase
GSSG:

glutathione disulfide
5-HPETE:

5-hydroperoxyeicosateraenoic acid
ICAM-1:

intra-cellular adhesion molecule-1
ICAM-2:

intra-cellular adhesion molecule-2
IL-1:

interleukin-1
IL-6:

interleukin-6
IL-10:

interleukin-10
JNK:

c-Jun N-terminal kinase
LOX:

lipoxygenase
MAO:

monoamine oxidase
MAPK:

mitogen-activated protein kinase
pMCAo:

permanent middle cerebral artery occlusion
tMCAo:

transient middle cerebral artery occlusion
MPO:

myeloperoxidase
MMPs:

metalloproteinases
NF-κB:

nuclear factor-κB
NADPH:

nicotinamide adenine dinucleotide phosphate
NO:

nitric oxide
eNOS:

endothelial nitric oxide synthase
iNOS:

inducible NOS
nNOS:

neuronal nitric oxide synthase
PGI2:

prostacyclin
PLA2:

phospholipase A2
PGD2:

prostaglandin D2
PGE2:

prostaglandin E2
PLC:

phospholipase C
ROS:

reactive oxygen species
SAPK:

stress-activated protein kinases
SOD:

superoxide dismutase
TLR-4:

toll-like receptors 4
TNF-α:

tumor necrosis factor-α
TXA2:

thromboxane A2
VCAM-1:

vascular cell adhesion molecules-1.
Declarations
Acknowledgements
This study was supported in part by Taiwan Department of Health Clinical Trial and Research Center of Excellence (DOH100-TD-B-111-004).
Authors' Affiliations
(1)
Department of Chinese Medicine, China Medical University Hospital, Taichung, Taiwan
(2)
Graduate Institute of Acupuncture Science, China Medical University, Taichung, Taiwan
(3)
Acupuncture Research Center, China Medical University, Taichung, Taiwan
Copyright
© Su and Hsieh; licensee BioMed Central Ltd. 2011
This article is published under license to BioMed Central Ltd. This is an Open Access article distributed under the terms of the Creative Commons Attribution License (http://creativecommons.org/licenses/by/2.0), which permits unrestricted use, distribution, and reproduction in any medium, provided the original work is properly cited.