Forensically informative nucleotide sequencing (FINS) for the authentication of Chinese medicinal materials
Received: 4 August 2011
Accepted: 9 December 2011
Published: 9 December 2011
Abstract
Chinese medicinal materials may be authenticated by molecular identification. As a definitive approach to molecular identification of medicinal materials, forensically informative nucleotide sequencing (FINS) comprises four steps, namely (1) DNA extraction from biological samples, (2) selection and amplification of a specific DNA fragment, (3) determination of the sequence of the amplified DNA fragment and (4) cladistic analysis of the sample DNA sequence against a DNA database. Success of the FINS identification depends on the selection of DNA region and reference species. This article describes the techniques and applications of FINS for authenticating Chinese medicinal materials.
Keywords
Internal Transcribe SpacerReference SpeciesMedicinal MaterialChinese Medicinal MaterialForensically Informative Nucleotide Sequencing
Background
World Health Organization estimates that 70-80% of the population in the developed countries have used some forms of alternative or complementary medicine [1]. Adulteration and misuse of Chinese medicinal products may be due to (a) accidental substitution due to the similarity of organoleptic characters, (b) inconsistent naming in local areas, (c) intentional substitution of expensive materials by less expensive items and (d) different use of substitutes in local areas. Conventional authentication methods based on organoleptic features and chemical constituents are influenced by various factors such as growing stages, environmental factors and post-harvest processing.
Molecular techniques have been employed to authenticate medicinal materials since the mid 1990s [2]. Molecular techniques, such as DNA fingerprinting, DNA sequencing and DNA microarray, have been applied extensively to authenticate Chinese medicinal materials with a number of these applications having been patented and commercialized [3]. DNA sequencing can retrieve the maximum molecular information from a particular DNA region. Polymorphism of nucleotide sequences provides information to distinguish closely related species from distantly related species and between genuine medicinal materials and adulterants.
Forensically informative nucleotide sequencing (FINS), a technique that combines DNA sequencing and phylogenetic analysis, is used to identify samples based on informative nucleotide sequences. The concept of FINS was first proposed by Bartlett and Davidson in 1992 to identify the origin of animal food products and has since been extensively applied in forensic investigations [4, 5]. In the past decade, FINS has been applied to identify and authenticate the Chinese medicinal materials with species-specific DNA regions [6–8].
This article describes the techniques and applications of FINS in authenticating Chinese medicinal materials.
Performing FINS
A defined DNA sequence from examined specimen is obtained and compared with suitable reference sequences from a reliable database using a phylogenetic analysis to identify the tested material [
4
]. Four basic steps are involved in FINS, namely (1) DNA extraction from biological samples, (2) selection and amplification of a specific DNA fragment, (3) determination of nucleotide sequences and (4) identification using a phylogenetic analysis against a sequence database. Materials used to construct the reference database should be properly identified fresh materials or authentic preserved specimens. The total DNA can be isolated by either DNA extraction or DNA release [
9
]. A general workflow of FINS is given in Figure
1
.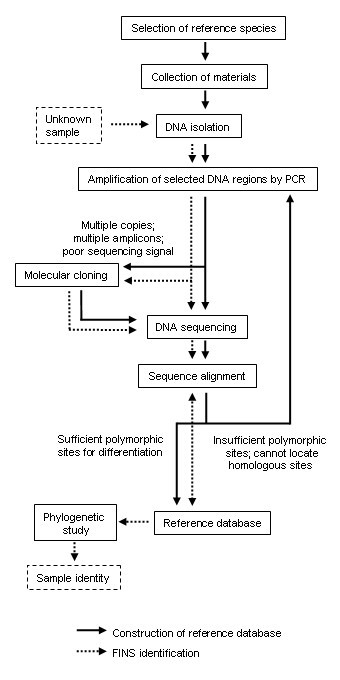 Requirements for FINS used to authenticate Chinese medicinal materials
FINS has four major requirements on its application in identifying Chinese medicinal materials. Firstly, the success of FINS identification is highly dependent on the quality and amount of the reference sequences [6, 28, 29]. Confirmation of the authenticity of the reference sequences or generation of tailor-made sequences may be costly and time-consuming. Secondly, FINS requires a reference database to identify any single Chinese medicinal material. Therefore, it is important to select and/or construct various databases with different reference species and different DNA regions to identify a mixture of Chinese medicinal materials. Thirdly, similar to other molecular identification techniques, FINS requires sufficient amount of good quality DNA. Some Chinese medicinal materials are derived from various plant parts with low DNA content and that were highly processed (e.g. by heat, boil or sun-dry). As a result, DNA can be damaged to the point where only very short fragments (< 200 base pair) are left [11, 33]. These short DNA fragments may not possess sufficient informative characters for high resolution FINS identification. ITS2 may be a good region for FINS because of its small size (200-300 base pair) and its high variability in plants and animals [20], although molecular cloning is needed to overcome the problem of multiple copies and secondary structure [24, 25]. Fourthly, contamination of fungal species is common in Chinese medicinal materials. Specific primers are required for the materials without the amplification of the contaminants when nuclear DNA regions, such as ITS and 5S rRNA gene spacer, are used.
Conclusion
Using to authenticate genuine medicinal materials, FINS actually traces the identifies of DNA samples at different taxonomic levels. High resolution FINS is expected to be useful in the authentication and quality control of Chinese medicinal materials.
Abbreviations
COI :

cytochrome c oxidase subunit 1
CTAB:

cetyl trimethylammonium bromide
cyt b :

cytochrome b gene
EF-1α :

elongation factor 1α: FINS: forensically informative nucleotide sequencing
ITS:

internal transcribed spacer
matK :

maturase K
ML:

maximum likelihood
MP:

maximum parsimony
NJ:

neighbor-joining
nrLSU :

nuclear ribosomal large subunit
PCR:

polymerase chain reaction
rbcL :

large subunit of ribulose-bisphosphate carboxylase
rpb1 :

largest subunit of RNA polymerase II
trnH-psbA trnH-psbA :

intergenic spacer
trnL-trnF trnL-trnF :

intergenic spacer
UPGMA:

unweighed pair-group mean analysis.
Declarations
Acknowledgements
We are indebted to Dr. David Wilmshurst of the Research Administration Office of The Chinese University of Hong Kong for his editing of the manuscript. Our research projects in FINS were partially supported by a sub-grant for the Large-scale Scientific Facilities of the Chinese Academy of Sciences (2009-LSF-GBOWS-01).
Authors' Affiliations
(1)
State Key Laboratory of Phytochemistry and Plant Resources in West China (CUHK), Institute of Chinese Medicine, The Chinese University of Hong Kong, Hong Kong SAR, China
(2)
School of Chinese Medicine, The University of Hong Kong, Hong Kong SAR, China
(3)
School of Life Sciences, The Chinese University of Hong Kong, Hong Kong SAR, China
Copyright
© Li et al; licensee BioMed Central Ltd. 2011
This article is published under license to BioMed Central Ltd. This is an Open Access article distributed under the terms of the Creative Commons Attribution License (http://creativecommons.org/licenses/by/2.0), which permits unrestricted use, distribution, and reproduction in any medium, provided the original work is properly cited.