Protective mechanisms of medicinal plants targeting hepatic stellate cell activation and extracellular matrix deposition in liver fibrosis
Received: 16 April 2014
Accepted: 26 November 2014
Published: 24 December 2014
Abstract
During chronic liver injury, hepatic stellate cells (HSC) are activated and proliferate, which causes excessive extracellular matrix (ECM) deposition, leading to scar formation and fibrosis. Medicinal plants are gaining popularity as antifibrotic agents, and are often safe, cost-effective, and versatile. This review aims to describe the protective role and mechanisms of medicinal plants in the inhibition of HSC activation and ECM deposition during the pathogenesis of liver fibrosis. A systematic literature review on the anti-fibrotic mechanisms of hepatoprotective plants was performed in PubMed, which yielded articles about twelve relevant plants. Many of these plants act via disruption of the transforming growth factor beta 1 signaling pathway, possibly through reduction in oxidative stress. This reduction could explain the inhibition of HSC activation and reduction in ECM deposition. Medicinal plants could be a source of anti-liver fibrosis compounds.
Keywords
CurcuminLiver FibrosisGinsenosideConnective Tissue Growth FactorHepatic Stellate Cell
Introduction
Liver fibrosis is caused by inappropriate tissue repair via connective tissue deposition, which results from chronic liver injuries, including those from alcohol, chronic viral hepatitis, autoimmune diseases, parasites, metabolic diseases, and toxins or other drugs [1]. When fibrosis is not controlled, it can progress into cirrhosis. Cirrhosis was previously considered to be irreversible, but some studies suggest that fibrosis and cirrhosis could be reversible [2].
Liver fibrosis is a public health problem that results in significant morbidity and mortality [3]. Hundreds of thousands of people worldwide suffer from cirrhosis, partially because of the obesity pandemic combined with the high incidence of alcohol abuse and viral hepatitis [4]. Chronic viral hepatitis (B and C), alcoholic liver disease, and nonalcoholic fatty liver disease are the three most common causes of liver cirrhosis [5]. The prevalence of chronic liver diseases is predicted to increase, partially owing to the rising prevalence of obesity and metabolic syndrome, especially in developed countries [6].
The pathogenesis of liver fibrosis is complex and varies among different kinds of hepatic injuries. Usually after acute liver damage, parenchymal cells are regenerated to replace the necrotic and apoptotic cells. This regenerative process is associated with an inflammatory response and a limited deposition of extracellular matrix (ECM). When the liver is subjected to chronic injury, the regenerative response fails and hepatocytes are replaced with abundant ECM, which is mainly composed of collagen types I, III, and IV; fibronectin; elastin; laminin; and proteoglycans [7]. Hepatic stellate cells (HSC) are the main source of ECM [8].
There is no standard treatment for liver fibrosis [
7
], but a reduction in liver injury events, such as cessation of alcohol intake or successful viral hepatitis treatment can control fibrosis. Nevertheless, these actions are often insufficient to avoid eventual progression to cirrhosis in the vast majority of patients [
9
]. Although important advances have been made in understanding the pathogenesis of hepatic fibrosis over the past 20 years, efficient antifibrotic drugs have yet to be developed. There are two ways by which medicinal plants and their bioactive compounds and extracts could reduce liver fibrosis:
via
inhibition of HSC activation and
via
reduction of ECM deposition (Figure
1
). Liver fibrosis treatment should take into account the versatility of its pathogenesis and should act upon all pathways involved, beginning with HSC activation and ECM deposition.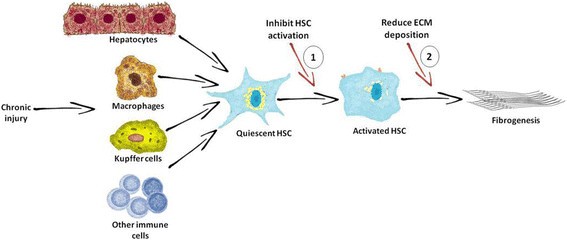 Medicinal plants are often safe, cost-effective, and versatile, and are therefore popular potential antifibrotic agents. This review aims to describe the role of some hepatoprotective plants in the inhibition of HSC activation and ECM deposition in the pathogenesis of liver fibrosis. These plants include: Curcuma longa, Silybum marianum, Ginkgo biloba, Salvia miltiorrhiza, Glycyrrhiza glabra, Scutellaria baicalensis, Bupleurum falcatum, Phyllanthus species, Berberis aristata, Ginseng species, Andrographis paniculata, and Coffea species.
Abbreviations
AGE:

Advanced glycation end-product
Co-Smad:

Common-Smad
CTGF:

Connective tissue growth factor
ECM:

Extracellular matrix
EGF:

Epidermal growth factor
ERK:

Extracellular signal-regulated kinases
FAK:

Focal adhesion kinase
HSC:

Hepatic stellate cells
IFNγ:

Interferon gamma
I-Smad:

Inhibitory-Smad
LDL:

Low-density lipoprotein
MCP-1:

Monocyte chemoattractant protein-1
MMP:

Matrix metalloproteinase
NF-κB:

Nuclear factor kappa B
NO:

Nitric oxide
PAI-1:

Plasminogen activator inhibitor type 1
PDGF:

Platelet-derived growth factor
PDGF-βR:

Platelet-derived growth factor beta
PPARγ:

Peroxisome proliferator-activated receptor gamma
R-Smad:

Receptor-activated Smad
TGF-α:

Transforming growth factor alpha
TGF-β1:

Transforming growth factor beta 1
TβRII:

Transforming growth factor beta 1 receptor II
TβRI:

Transforming growth factor beta 1 receptor I
TIMP:

Tissue inhibitor of metalloproteinases
uPA:

urokinase-plasminogen activator
VEGF:

Vascular endothelial growth factor
Declarations
Acknowledgements
Supported by: CONACYT for the PhD student grant. This work was partially funded by endowments from Instituto Tecnológico de Estudios Superiores de Monterrey (cat-134) and the Zambrano–Hellion Foundation.
Authors' Affiliations
(1)
Cell Therapy Department, School of Medicine, Tecnológico de Monterrey, Monterrey, Mexico
(2)
Centro de Enfermedades Hepáticas-Digestivas y Nutrición, Monterrey, Mexico
Copyright
© Duval et al.; licensee BioMed Central. 2014
This article is published under license to BioMed Central Ltd. This is an Open Access article distributed under the terms of the Creative Commons Attribution License (http://creativecommons.org/licenses/by/4.0), which permits unrestricted use, distribution, and reproduction in any medium, provided the original work is properly credited. The Creative Commons Public Domain Dedication waiver (http://creativecommons.org/publicdomain/zero/1.0/) applies to the data made available in this article, unless otherwise stated.