Validation of the qi blood yin yang deficiency questionnaire on chronic fatigue
Chinese Medicine
2016
11:24
Received: 9 March 2015
Accepted: 18 April 2016
Published: 2 May 2016
Abstract
Background
Chronic fatigue (CF) reflects an imbalance of inter-organ functions or of the four essential physiological components qi, blood (xue), yin, and yang. CF can be subdivided into different patterns. However, there are no diagnostic methods for CF. This study aimed to clinically validate a pattern identification method by identifying correlations between CF and responses to the qi blood yin yang deficiency questionnaire (QBYY-Q).
Methods
Participants were recruited between May and June 2014 through the Kyung Hee University Korean Medicine hospital website and via posters and comprised 129 CF patients diagnosed with the United States Centers for Disease Control and Prevention (1994) criteria. Participants who had organic diseases that explained the CF were excluded. A total of 159 participants were asked to complete the QBYY-Q, the fatigue severity scale, and the Chalder fatigue scale. The latter two questionnaires were used to assess convergent validity with the QBYY-Q. Among the 129 CF participants, 70 and 59 had chronic fatigue syndrome and idiopathic chronic fatigue, respectively. Two Korean medical doctors independently assessed participants' qi, blood, yin, and yang deficiency patterns using QBYY deficiency pattern identification guidelines. Based on the results of a preliminary study of the QBYY-Q, we selected 32 reliable items for symptoms corresponding to each deficiency pattern. The items were used to estimate internal consistency and construct validity. Multinomial logistic regression analysis was performed for scores on each deficiency pattern.
Results
The data were means and standard deviations or numbers of participants and proportions for continuous and categorical variables, respectively. A statistical significance level of P < 0.05 was assumed. The QBYY-Q showed satisfactory internal consistency. Explanatory factor analysis extracted two factors for each deficiency pattern. The percentages of explained variance for qi, blood, yin, and yang deficiency were 45.1, 58.0, 52.2, and 63.4 %, respectively. Each QBYY-Q deficiency score was positively associated with each corresponding deficiency pattern. Qi deficiency was used as a reference category. Odds ratios of blood, yin, and yang deficiency were 10.97, 10.69, and 14.64, respectively.
Conclusion
The QBYY-Q was suitable for estimating the influences of qi, blood, yin, and yang deficiencies in CF.
Trial registration This trial was registered with the Korean Clinical Trial Register (KCT0001199)
Keywords
Pattern identificationDeficiency patternQuestionnaire Qi blood yin yang deficiencies Chronic fatigue
Background
Fatigue is a state of subjective tiredness and can be subdivided into prolonged fatigue and chronic fatigue (CF). CF is a condition of subjective tiredness and is reported by nearly 10 % of the global population [
1
]; it can be categorized as either explained CF or unexplained CF. Unexplained CF is further subdivided into chronic fatigue syndrome (CFS) and idiopathic chronic fatigue (ICF) [
2
]. CFS is characterized by severe disabling fatigue and a combination of four additional symptoms that may include impairments in cognitive or neurological function, sleep dysfunction, musculoskeletal pain, and endocrine or immune dysfunction (Table
1
). Additionally, alternative medical and psychiatric causes must have been excluded, and the condition must have persisted for at least 6 months. ICF meets all the criteria for CFS except for the four additional symptoms.
Table 1
Diagnosis CDC-1994 criteria
Chronic fatigue syndrome symptoms
A. Major criteria (both criteria required)
1. Severe fatigue >6 months
a. Persistent or relapsing in course
b. Does not resolve with bed rest
c. Significant reduction in average daily activity (below 50 % of prior activity)
2. Other causes excluded
a. See fatigue causes
B. Minor criteria (4 or more present for 6 months)
1. Headache
a. New type, severity or pattern
b. Typically non-focal headache
2. Migratory polyarthralgias
a. Non-inflammatory (no swelling or erythema)
3. Myalgias
4. Postexertional malaise or fatigue
a. Duration >24 h
5. Short-term memory or concentration impaired
6. Pharyngitis
7. Tender cervical or axillary adenopathy
8. Non-restorative sleep
Table 2
Demographic characteristics of participants with CF (CFS and ICF) and controls
Chronic fatigue

Controls (n = 30)

P value

CFS (n = 6 5)

ICF (n = 56)

Age (years)

29.7 ± 4.9

27.4 ± 5.2

26.0 ± 3.7

0.001

Sex (female)

42 (64.6)

20 (35.7)

15 (50.0)

0.007

BMI (kg/m2)

22.8 ± 3.5

22.3 ± 3.0

21.8 ± 3.1

0.746

SBP (mm Hg)

116.3 ± 11.0

116.8 ± 10.2

119.2 ± 12.7

0.471

DBP (mm Hg)

69.5 ± 11.1

71.8 ± 9.0

71.2 ± 12.5

0.471

Pulse rate (beats/min)

71.4 ± 8.9

70.0 ± 6.3

72.0 ± 9.5

0.482

Body temperature (°C)

36.4 ± 0.2

36.4 ± 0.2

36.4 ± 0.2

0.601

Smoking

18 (27.7)

13 (23.2)

4 (13.3)

0.305

Regular exercise

20 (30.8)

27 (48.2)

12 (40)

0.145

Regular diet

36 (55.4)

33 (58.9)

19 (63.3)

0.76

Pattern identification

QD

16 (24.6)

13 (23.2)

14 (46.7)

0.129

BD

13 (20)

18 (32.1)

6 (20)

YnD

16 (24.6)

14 (25)

6 (20)

YgD

20 (30.8)

11 (19.6)

4 (13.3)
Table 3
Agreement results in the KMD diagnoses (n = 157)
KMD diagnoses

KMD #1

QD

BD

YnD

YgD

KMD #2

QD

43

0

0

1

BD

1

37

1

0

YnD

1

2

36

0

YgD

0

0

0

35
Studies of CFS and ICF indicate prevalence rates of approximately 10 and 1 % of the general population, respectively [3]. The estimated prevalence of CF in the Republic of Korea is between 0.6 and 2 % of the general adult population [4]. Several hypotheses have been proposed for the pathogenesis of CF, including oxidative stress, hypothalamic–pituitary–adrenal axis abnormalities, and immune dysfunction [5–7]. Western medicine offers no objective diagnostic methods or effective therapies for CF and the recommended drugs have many side effects [8–11]. CFS and ICF patients tend to be interested in complementary and alternative medicine treatments [9, 12, 13].
An individual's constitution and current health status can be conceptualized in terms of the balance between the qi and blood (xue) conditions of the internal organ functions and of the co-existing yin and yang (which constitute the physical form and functioning of the human body and its deficient and excessive energetic qualities) [9, 14, 15]. Treatments such as acupuncture, moxibustion, herbal medicine, and qigong restore the balance of the four essential components of the human body: qi, blood, yin, and yang.
Unexplained CF can be classified as either a deficiency syndrome or an excess syndrome; these syndromes refer to the deficiency or excess of qi, blood, yin, and yang [16, 17]. Unexplained CF is usually considered a deficiency pattern representing an imbalance of the four essential components; most cases are treated by invigorating qi and yang and nourishing blood and yin [9, 18, 19]. CF treatments are based on individual patterns of body constitution or pattern identification (PI); most patients are diagnosed according to four patterns of body constitution that involve the five major organs: the heart, liver, spleen, lungs, and kidney. These patterns are qi deficiency (QD, i.e., decreases in visceral functions and body resistance), blood deficiency (BD, i.e., failure to nourish the organs, tissues, and meridians), yin deficiency and yang deficiency (YnD and YgD, i.e., failure to maintain normal function of internal organs) [9, 11, 18].
This study aimed to clinically validate a PI diagnostic method by testing for correlations between CF and responses to the qi blood yin yang deficiency questionnaire (QBYY-Q).
Discussion
In this study, we aimed to clinically develop a PI questionnaire and to analyze the effectiveness of the four QBYY-Q scales as diagnostic tools for CF subtypes. We examined the correlations between CF and the QBYY-Q scales using KMD inter-rater agreement, the internal consistency and construct validity of the QBYY-Q, demographic characteristics, the convergent validity of the QBYY-Q, the least square means of the QBYY-Q scores with CF status, the associations between PIs and CF, and associations between PI and CF and QBYY-Q scores.
We compared the sociodemographic and clinical characteristics of CF patients with those of healthy subjects; however, it was difficult to delineate the clinical characteristics of CF in our study because of the small number of participants, i.e., 121 patients and 30 healthy subjects. In contrast to previous studies, the current study found no sex differences among groups, but it showed significant differences among groups for marital status and sex [33, 34].
Validation of the QBYY-Q and the Delphi methods were conducted using two different groups of clinicians, which strengthened the discriminant ability of the QBYY-Q [23, 28]. The revised QBYY-Q exhibited satisfactory internal consistency, with a Cronbach's α of 0.900 for the overall signs and symptoms, and the internal consistency of each pattern was satisfactory (0.717–0.826). The strong internal consistency reliability for each pattern suggested that the pattern constructs were homogenous or that the signs and symptoms were appropriate measures of these deficiency syndrome constructs.
The two QD factors were identified as weakness and shortage of qi or faint breathing. The two BD factors were identified as pale complexion and palpitations, i.e., a subjective sensation of rapid and forceful beating of the heart. Yin and yang deficiencies were divided into two factors each, as follows: (1) dry skin and mouth and heat vexation fever accompanied by uneasiness or restlessness for YnD and (2) and cold in the extremities up to the knees and elbows or beyond and diarrhea for YgD [35]. In summary, the QD, BD, YnD, and YgD scores might be beneficial for clarifying the characteristics of deficiency syndromes in clinical cases.
Convergent validity was assessed by investigating the relationships between the QBYY-Q scales and the CFS-K and FSS fatigue questionnaires. The convergent validity test showed that the QBYY-Q scales were significantly correlated with CFS-K and FSS scores (0.29 < r < 0.72).
Additionally, our study explored biochemical differences in the blood between the CF and control groups. The blood biochemistry and complete blood cell counts fell within the normal laboratory ranges [14, 35–37]. However, a CF diagnosis with YgD was significantly correlated with hemoglobin (r = −0.28) and red blood cell counts (r = −0.29), and a CF diagnosis with YnD was significantly correlated with chloride levels (r = 0.28). Statistically negative correlation coefficients of hematocrit (r = −0.37), hemoglobin (r = −0.35), red blood cells (r = −0.32), aspartate transaminase (r = −0.29), and alanine transaminase (r = −0.28) were observed in CF patients with BD. These data suggest that CF patients showed differences in physiological homeostasis.
YgD of the spleen and kidney is characterized by cold limbs, listlessness, cold and pain in the waist and knee joints, a pale tongue with a white coating, and a deep and thready pulse [9]. The cross-tabulation results of CF and the PIs showed that the YgD OR (4.68, CI 1.347–19.65) was significantly higher than the ORs of the other patterns (Table 6). The use of a questionnaire for deficiency syndromes might help to identify appropriate qi, blood, yin, and yang nourishing treatments for CF patients.
The YgD OR was significantly higher than the ORs of the other patterns (Table 7). However, the reliability of the YgD-Q (α = 0.717) was lower than that of the other patterns, indicating that some of the YgD-Q items might not have accurately reflected the YgD pattern. In other words, the QBYY-Q did not distinguish YgD from QD because YgD simultaneously included QD. The ORs suggested that the QBYY-Q scores might be beneficial for clarifying the characteristics of deficiency syndromes in clinical cases.
The ORs derived from the multinomial logistic regression analysis demonstrated that each QD, BD, YnD, and YgD-Q score was positively associated with each corresponding
deficiency
pattern (adjusted ORs: qi score = 0.041, blood score = 5.877, yin score = 12.57, yang score = 13.56, reference category: QD). We constructed an algorithm for estimating the PI of a CF patient, including data on age, sex, and QBYY-Q scores, and tested its predictability (Fig.
3
). We developed and validated this algorithm based on the diagnostic results and QBYY-Q scores to predict the PIs of patients with CF. To evaluate the distinction possibility of the four
deficiency
patterns, we developed and validated an algorithm based on diagnostic results and QBYY-Q scores. The algorithm was developed and validated based on bootstrap resampling (B = 500) using ordinary multinomial logistic regression (precision = 0.608) and subscales of each
deficiency
pattern questionnaire, based on EFA (precision = 0.530) [
38
]. The selected final model depended on the simulation results. Bootstrap validation with 500 resamples of the selected model produced moderate predictive performance, with Cox & Snell
R
2
= 0.346, agreement = 0.523, κ = 0.369, area under the curve = 0.750, precision = 0.53, and recall = 0.535. The prevalence and severity of ICF and CFS varied according to ethnicity and psychosocial factors [
39
]. By validating the results, we confirmed the possibility of diagnosis using the QBYY-Q. Objective measurement of the subjective severity of fatigue is difficult, but it is essential in implementing therapy for unexplained CF [
40
,
41
].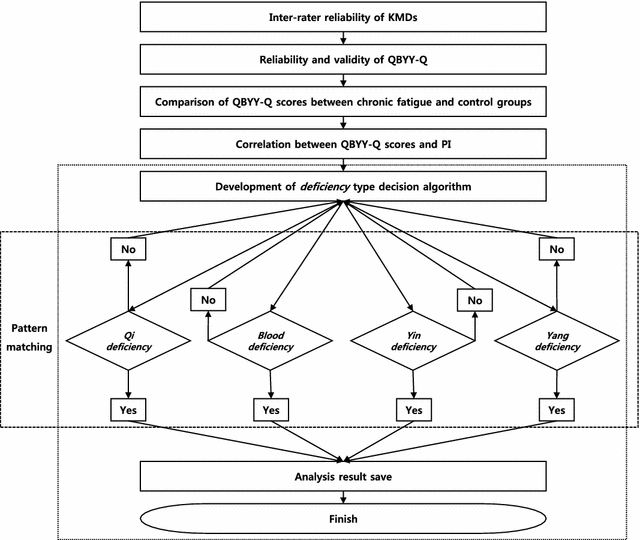 The study was limited by the small number of patients and the single-center design. Although CFS and ICF can be diagnosed using international guidelines, these standards are different from PI symptoms and signs, which are very difficult to standardize. However, we generated reference data that are applicable to future studies. Thus, the results of the present study could be used to improve the care of patients with CF and CF-related disorders and to facilitate research on anti-CF therapies. Large clinical trials in multiple centers on PI and the evaluation of the therapeutic effects on CF in randomized clinical trials are needed. Additional studies are required to assess the correlations between CF type and other demographic and clinical characteristics.
Conclusion
The QBYY-Q was a suitable instrument for estimating the influences of qi, blood, yin, and yang deficiencies in CF.
Abbreviations
KM:

Korean medicine
CFS:

chronic fatigue syndrome
ICF:

idiopathic chronic fatigue
CF:

chronic fatigue
FSS:

fatigue severity scale
CFS-K:

Korean-translated Chalder fatigue scale
PSS:

perceived stress scale
QBYY-Q:

qi blood yin yang deficiency questionnaire
PI:

pattern identification
KMD:

Korean medical doctor
QD:

qi deficiency
QD-Q:

qi deficiency questionnaire
BD:

blood deficiency
BD-Q:

blood deficiency questionnaire
YnD:

yin deficiency
YnD-Q:

yin deficiency questionnaire
YgD:

yang deficiency
YgD-Q:

yang deficiency questionnaire
SBP:

systolic blood pressure
DBP:

diastolic blood pressure
KMO:

Keiser Meyer Olkin
FL:

factor loading
OR:

odds ratio
Declarations
Authors' contributions
JH, BC and KH conceived and designed the clinical trials. JH and BC analyzed the data. JH wrote the manuscript. BC and KH reviewed the manuscript. All authors read and approved the final manuscript.
Acknowledgements
We thank all of the subjects who participated in this study and our colleagues. This study was supported by the Korea Institute of Oriental Medicine (K15011), Republic of Korea.
Competing interests
The authors declare that they have no competing interests.
Open AccessThis article is distributed under the terms of the Creative Commons Attribution 4.0 International License (http://creativecommons.org/licenses/by/4.0/), which permits unrestricted use, distribution, and reproduction in any medium, provided you give appropriate credit to the original author(s) and the source, provide a link to the Creative Commons license, and indicate if changes were made. The Creative Commons Public Domain Dedication waiver (http://creativecommons.org/publicdomain/zero/1.0/) applies to the data made available in this article, unless otherwise stated.
Authors' Affiliations
(1)
KM Fundamental Research Division, Korea Institute of Oriental Medicine, Daejeon, Republic of Korea